AC Repair and Maintenance Services in St Charles, Missouri
If you live in St Charles, Missouri, and need AC repair or maintenance, look no further than Stay Cool HVAC. Our team of experienced technicians is dedicated to providing fast, reliable service for all your AC needs.
One of the most important things to keep in mind when it comes to AC maintenance is that regular tune-ups and preventative maintenance can save you money in the long run. Without proper care and attention, your AC can develop problems that can lead to costly repairs or even replacement. That's why we recommend scheduling regular maintenance for your AC system to ensure that it is running at peak performance and to catch any potential issues before they become major problems.
AC Repair Done Right in
St Charles, MO
During a maintenance visit, our technicians will thoroughly inspect your AC system, checking for any signs of wear or damage. They'll also clean and adjust any parts that need it, and make sure that your system is properly lubricated and charged with refrigerant. Our technician will also check that the system is properly sized for your home and that the ductwork is sealed and insulated to ensure maximum efficiency.
If our technician finds any issues during the maintenance visit, they'll let you know and provide a detailed estimate for repairs. We understand that unexpected AC repairs can be a hassle and an added expense, so we'll do everything we can to keep the costs as low as possible.
Preventive AC Maintenance Services for St Charles Homeowners
Another common issue that we see with AC systems is a lack of proper airflow. This can be caused by a variety of factors, including dirty air filters, blocked ducts, or even issues with the fan or compressor. Our technicians will thoroughly inspect your system to identify the cause of the problem and make any necessary repairs to get your AC back to blowing cool air.
In addition to repairs and maintenance, we also offer a variety of other services to help keep your AC running smoothly. For example, we can install programmable thermostats, which allow you to set different temperatures for different times of the day. This can help you save money on your energy bills by only running your AC when you need it. We also offer energy-efficient upgrades such as variable-speed motors, which can significantly reduce your energy consumption and save you money on your utility bills.
We also offer duct cleaning services to remove dirt, dust, and other debris from your ducts. This can improve the air quality in your home and make your AC system more efficient. Additionally, we can install UV lights in the ductwork to kill harmful microorganisms, such as mold and bacteria, that can affect the air quality in your home.
Reach our St Charles AC experts today to learn more about our Comfort Club membership and how this can help you achieve your indoor comfort goals year after year.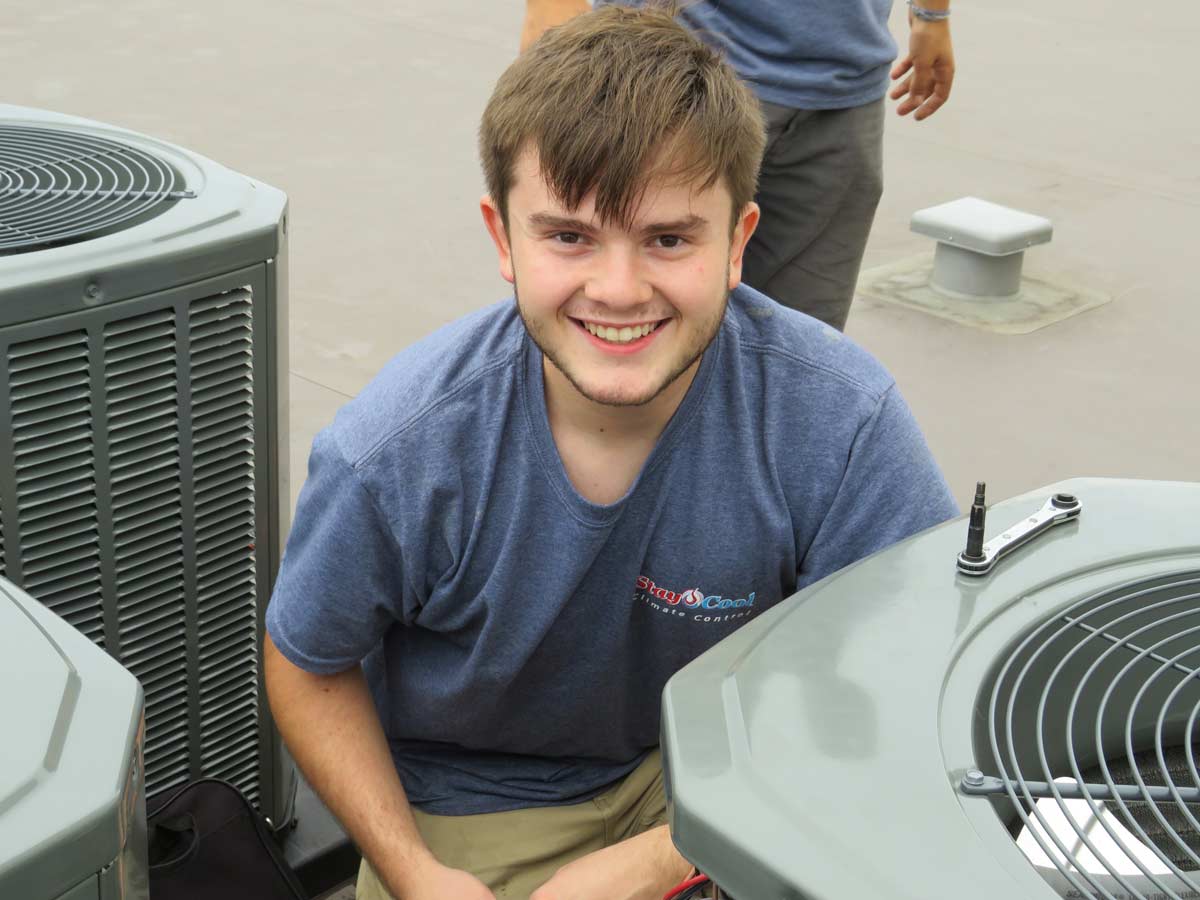 Work With St Charles's AC Repair and Maintenance Experts
At Stay Cool HVAC, we're committed to provide our customers with nothing but the best AC repair and maintenance services in St Charles. We definitely understand how important an AC system is to your home and your comfort, especially during the hot summer months. That's why we offer fast, reliable service and fair pricing.
If you need AC repair or maintenance in St Charles, don't hesitate to contact us. Our team of experienced St Charles technicians is ready to help you keep your AC running smoothly.